Like many others I started on Blogger but then, I wanted a little more freedom. So, went on to a self hosted wordpress. There are a lot of advantages with wordpress like SEO, customizability and most importantly freedom to do anything you want.
It is a preconceived notion that migrating from Blogger to WordPress would destroy your previously acquired pagerank, google juice, traffic, image (picasa) data. Well, its not, its not that hard as it seems. It is possible to do it without losing any of these..
This method will ensure complete Page Rank, Traffic, Image transfer. Everything will be retained. We will use 301 redirects to do that. So, you will not lose any of your traffic be it organic or referral, anything. Even your images on Picasa are taken care of.
I am going to show you how to do it completely on cPanel. You can try similar steps if you want to do it on your local machine.
Note: This documents helps you migrate from Blogger.com to self hosted Wordpress.org not Wordpress.com.
Disclaimer: This method works most of the time. It has gone through a number iterations to make it as easy as possible but there are still things that can go wrong, to name a few, php.ini configurations, mod_security rules, unix permissions, the blogger post import algorithm etc. I'm not responsible for any loss.
This method will work with both custom domains and .blogspot.com domain blogs.
Before you start
You'll have to buy a good hosting package. I'd recommend hostgator (Use coupon code "blogger2wordpress" to get 25% off). After that, you will get an email with your account information. Here is a sample email.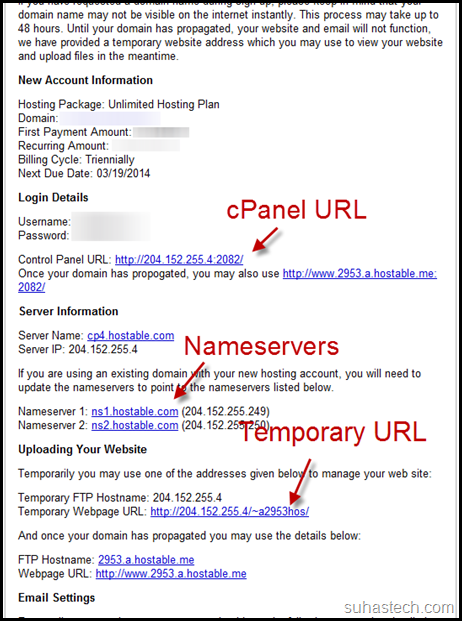 Note down all that is specified. If you don't have the temporary URL listed, ask the web hosting support. I'm sure, they'll tell you.
Setup your Blog
1) Go to the cPanel (using the cPanel URL) –> Addon Domain (or even a subdomain would do) –> Add your domain name.

3) Install WordPress on your domain. Fantastico is my favourite
.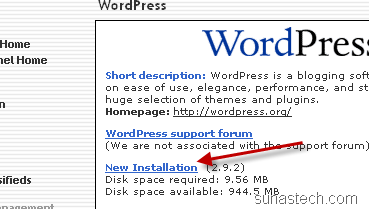 A. Preparing
Here, you import all the old posts. Setup redirects using a plugin.
A.1 Getting WordPress to Work on the Temporary URL:
Temporary URL is only necessary if you are using custom domain on Blogger and want to move it to wordpress. People on .blogspot.com URL need not do this (Step A 1)
1) In your cPanel, go to PhpMyAdmin. Click on your database (Fantastico will save it as "username_ wrdp1″ or something similar)
2) Click on wp_options. Change the siteurl to your temporary URL.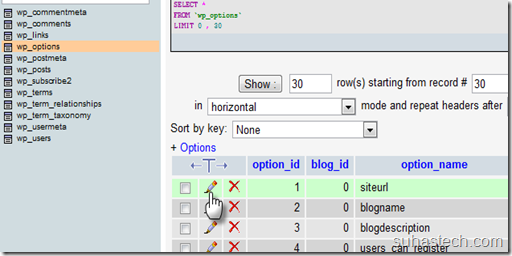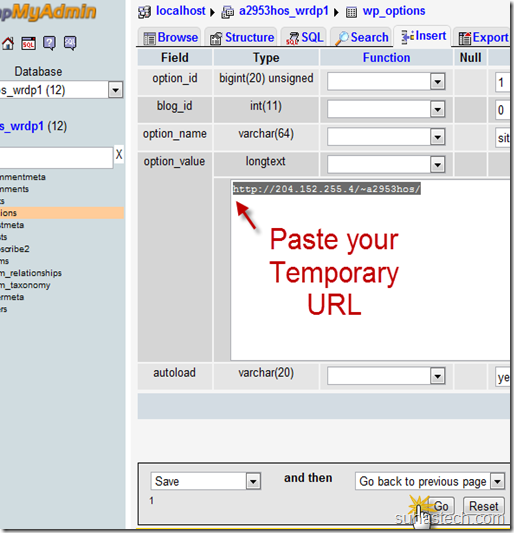 A.2 Importing:
2) Login to the WordPress Dashboard using the Temporary URL . In the tools menu, select Import.

3) Select Blogger (duh!)

4) Select "Grant Access"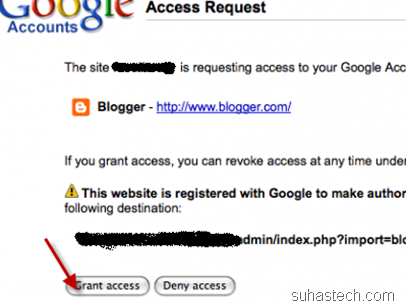 5) Click on Import.

A.3 Redirecting:
Here, you'll make sure you redirect all the traffic from your Blogspot Permalinks to your new WordPress Permalinks. We will make 301 redirects. All your traffic from organic (search engines) and inorganic (referral, direct) will still be retained. All your search engine rankings, Page ranks will be intact. And it's super easy to do.
Basically, Your Blogger URL will be like:
http://www.suhastech.com/2010/01/wordpress-change-server-webhost-domain.html
Your new WordPress URL will be like:
http://suhastech.com/wordpress/complete-wordpress-guide-how-to-change-your-webhost-or-domain-and-still-retain-all-the-settings/
All of them will be redirected.

1) Install this plugin.
2) What do you expect, thats all.
The following steps are only for .blogspot.com domain users.
1) Go to WordPress Dashboard (wp-admin) -> Tools –> SEO Blogger to WordPress. Put in your WordPress URL and Generate the Template.
2) Copy all of the Generated text.
3) Go to your Blogger Dashboard -> Design -> Edit HTML -> Revert to Classic Template.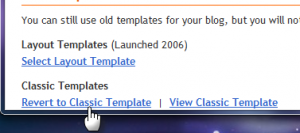 4) Paste all the Generated Template to the code area and click on save.
A.4 Tidying Up
Before your blog goes live. Make all the changes you want to do. Here's a Check List that would help you:
1) Add a new theme.
2) Edit any posts if you must.
Changing the permalinks is a must for the plugin to work. When you change the structure, wordpress takes care of .htaccess.
3) Change your permalink structure. Settings –> Permalinks. I recommend /%category%/%postname%/
4) Install all the plugins you need. I recommend: All in one SEO pack, Akismet (Buckle up), Yet another related posts, Google Analyticator
A.5 Miscellaneous
You wouldn't want to leave your subscribers behind. Make sure you redirect your feed.
Go to Blogger Dashboard –> Settings –> Site Feed. Set "Post feed redirect URL" to "yourblog.com/feed"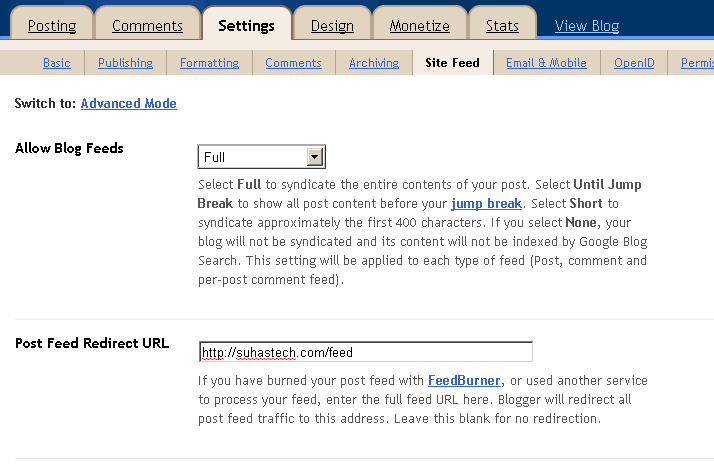 A.6 The Migration
You have your wordpress blog completely setup. Set your siteURL back to the original URL (As in A.1).
Now, you've to point your domain to the blog you have setup.
Go to your Domain Registrar (Godaddy / Namecheap) and update the nameservers provided by your hosting provider.
1) Login to your Domain Registration Control Panel.
2) Add the nameservers given by your hosting provider.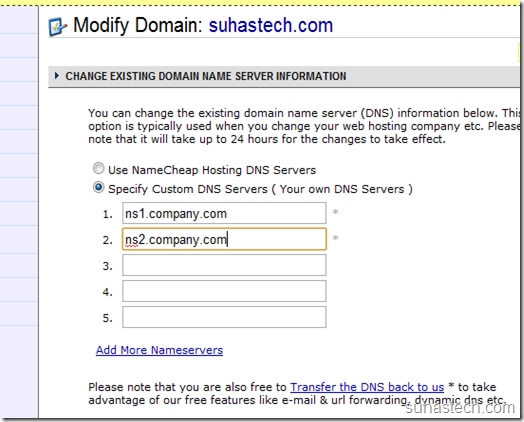 Nameservers will take about 3-4 hours (48 hours max) to propagate. After that you can pat yourself for a flawless migration. If it's not, comments are welcome.
A.7 Download Images from Picasa Albums to your WordPress Installation
Now, that you've installed my plugin. Go to Settings –> SEO Blogger to WordPress.
Click on "Download". After the process is completed, click on "Clear Temporary Settings".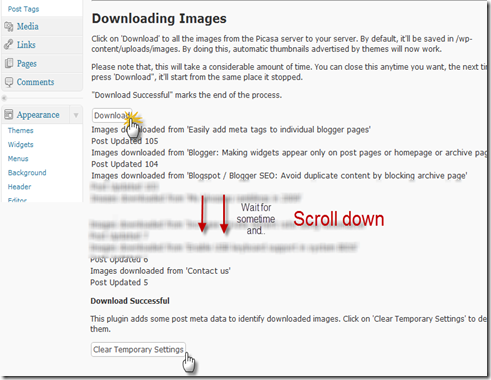 How the migration works:
This paragraph below is an email I wrote to one of my clients.
Let me explain you how the ".blogspot.com" to ".com" migration works. Hope I don't confuse you.
Blogger.com doesn't provide you with the facility to 301 redirect people and robots to any other site. So, we use a link parameter called rel="canonical". Initially, this was used to prioritize in-domain URLs but now, all major search engines have agreed to use it cross domain. See the last question here http://www.google.com/support/webmasters/bin/answer.py?answer=139394 .
Here, we make a template on blogger with rel="canonical" and meta refresh to http://yourdomain.com?blogger=http://your.blogspot.com/blah-blah.html. rel="canonical" tells the search engine robots to "crawl this yourdomain.com URL next time you come across the blogspot URL".
"Meta refresh" refreshes the webpage and redirect to yourdomain.com URL as soon as a real person opens your website.
On the other side (wordpress) we 301 redirect http://yourdomain.com?blogger=http://your.blogspot.com/blah-blah.html to the original wordpress URL.
Now, for this to work, you have to import your posts using the "Blogger Importer" given in the WordPress tools as it adds a meta data value with the blogger URL. Copy Pasted stuff will NOT work.
Custom domain to WordPress is a pure 301 redirect.